A new source of acronym-related fun!
We've often noted examples in this space of "IFRS" being used as an acronym for something other than what we accountants know it to mean, some from real life and some, well, which I made up myself. We can now start supplementing this with examples of "ISSB" being used to denote something other than our exciting new International Sustainability Standards Board. Let's start with this real-life Twitter extract:
Some Bengali politicians (including Sheikh Mujib) repeatedly accused the army authorities of discriminating against Bengali candidates during selection tests such as the ISSB.
The reality was the opposite and the rate of recommendation for Bengali candidates of ISSB was much more than their West Pak counterparts. For example in 1969, out of 82 Bengali candidates, 40 (49%) were recommended for selection by the ISSB.
On the other hand only 287/1132 (25%) West Pak candidates were recommended in the same year. This "bias" of the ISSB was due to the gov policy of encouraging Bengali recruitment into the armed forces.
Certainly does sound worth pursuing. But of course, not a job for Emmanuel and the gang, as the reference here is to the Indian "Inter Services Selection Board." Here's a logo: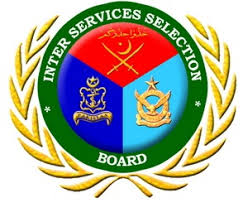 This was also the ISSB referred to in a reference to "the same lot that asks about pornography from applicants during ISSB." At least, I think it was. And now, some less prominent instances:
Isaac Singer's Secret Books The Nobel-prize winning author Isaac Bashevis Singer is of course a preeminent literary figure, renowned for novels such as Enemies, a Love Story and short stories such as Yentl the Yeshiva Boy, written originally in Yiddish and translated by Singer himself into English. Less well-known is Singer's less reputable sideline as a writer of lurid pulp fiction, using the pseudonym "Crackles O'Rourke" to hide the true authorship of quickie product such as Death Lipstick and Flog! Flog! Flog! In recent years the merits of the O'Rourke-labeled work have been somewhat reassessed upward; still, Singer traditionalists use the acronym "ISSB" to dismiss the corpus, taking pains never to mention any of the specific titles by name (not even Gut Punch on a Goat).
I Still See Butts A phrase often heard among those who value and fetishize the human posterior to an excessive extent, sometimes to the extent of overshadowing almost all else in their lives. While various treatments have been evolved to reduce the impact of this cruel malady, it's common to hear a sufferer declare "ISSB!" indicating that for all their efforts, the physical reality before them is currently being crowded out by unconquerable images of derrieres.
Ibises Solicit Special Benefactors The giant ibis went unrecorded for more than 50 years until it was rediscovered in 1993; the remaining population is estimated to be less than 250 birds. Long-established organizations such as the World Conservation Foundation work to safeguard their future, and have recently been joined by this new ISSB, which aims to target deep-pocketed donors who carry a particular affinity for the shy feathered Cambodian resident. Platinum-level donors will have one of the surviving ibises named in their honour, unless a donor happens to have a name that no ibis would want (you know what Elon, don't even bother).
Irish Shepherds Say Bollocks! Not to the sheep, no doubt, and not to the trusty sheepdogs, but as far as most of the rest goes, that's their ringing, unified message. Bollocks!
Indonesian Shopkeepers Sing Bowie! This underappreciated musical gem melds the everyday hustle-and-bustle of Jakarta retail with the timeless ethereality of the much-missed musical chameleon. A classic like Life on Mars only gets more resonant when juxtaposed against a cacophony haggling over the price of knock-off handbags; in this version, Flight Control gorges up on nasi goreng before even trying to contact Major Tom. And don't even ask about their version of China Girl!
I'm So Secretly Bored Insiders report that during Emmanuel Faber's longer soliloquies, board members whisper "ISSB" to each other to denote tedium, knowing that if overheard, it will sound completely innocuous. Hey, I'm only repeating what I heard!
Idiots Seek Sexy Babes As I understand it, this campaign perennially underperforms the aforementioned efforts of the ibises. But even idiots deserve to dream…
It Sucks Since Brexit Well, you can't blame me. "Staggeringly reckless," that's what I called it in this space in June 2016. Of course, I'm not right about everything – in that same column I mused about the possibility of a post-Brexit UK moving away from IFRS. It doesn't look like that's going to happen any time soon. But, hey, Brexit still sucks!
Well, I think we can all take something away from that list. Happy new year!
The opinions expressed are solely those of the author, or else of the Irish shepherds.